Public Attitudes about Science—New Findings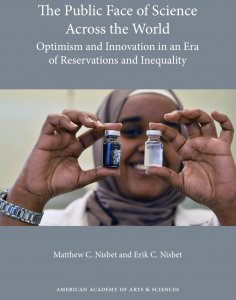 New research from the American Academy of Arts and Sciences explores the origins of global public attitudes toward science. This study is part of the Academy's multiyear initiative, the Public Face of Science, which is supported in part by the Rita Allen Foundation. Examining data on attitudes about science in a cultural context, authors Matthew C. Nisbet and Erik C. Nisbet emphasize the need for collaboration to address underlying issues behind distrust in science. "The scientific community must join with the leaders of other societal sectors to identify and pursue policies and investments for restoring the health of our civic culture," they conclude.
A related report from Wellcome Trust in partnership with Gallup, the Wellcome Global Monitor, presents the results of the largest study to date of global attitudes about science and health. The report provides insight about how different countries and populations understand, trust, and relate to science and health issues including vaccine safety and effectiveness, and how science impacts people's daily lives.
Despite differences among demographic groups, a recent report released by the Pew Research Center, Trust and Mistrust in Americans' Views of Scientific Experts, finds high overall confidence in scientists as experts in the United States, with 86 percent of Americans reporting confidence in scientists to act in the public interest, representing an upswing since 2016. Confidence in scientists is now on par with confidence in the military, and considerably higher than that in other groups represented in the survey, including elected officials, business leaders, and the news media. However, there are greater differences of opinion on whether scientists should participate in policy debates—60 percent of Americans say scientists should play an active role in policy debates about scientific issues.