Seena Ajit: A Passion for Learning leads to Industry, Academia, and Mentorship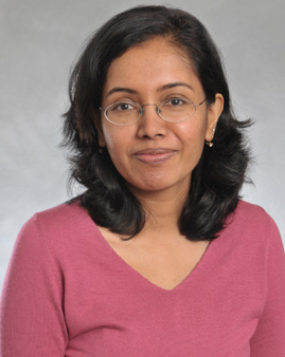 Seena Ajit had reached a crossroads in her career. She was working at the pharmaceutical company Wyeth, but what really excited her was the microRNA research she had been pursuing on the side. At an inflection point, she attended a meeting of the Keystone Symposia on molecular and cellular biology, where she met the Chair of the Department of Pharmacology & Physiology at Drexel University College of Medicine James Barret, who she learned was interested in hiring for his department.
"He said right away, 'We are looking for a new faculty member to do pain and epigenetics research. Is this something you are interested in? Do you want to apply for a faculty position?' I had not thought I would even be considered. I think he took a great chance on me," Ajit says.
Ajit remembers sharing her grant idea and being immediately invited for an interview. Soon after, they offered her the position. "I just couldn't believe it—that I had the opportunity to actually run my own lab—my wildest of wild dreams," she remembers.
Ajit's journey into science had humble beginnings. "I grew up in India, and I did not grow up in a big city," she says. "My father had two daughters, and he wanted to give us a good education. Neither of my parents had gone to college. Although the easiest option was going to a local school where the education was in the local language, my father sent us to a private school run by Catholic nuns, where the education was in English."
While Ajit's parents never pushed her or her sister to study, they instilled in their children a sense of the importance of a good education. Ajit motivated herself through her early education with a competitive spirit, always reflecting on how to make the most of the opportunities given to her.
I just couldn't believe it—that I had the opportunity to actually run my own lab—my wildest of wild dreams.
Upon completing her primary education and earning her Master's degree in India, Ajit enrolled in a doctoral program at Rutgers University in molecular biology. During her graduate work, she was awed by the molecular techniques used to alter genes such as cloning, knockout gene expression, and gene overexpression. "It was amazing to me to be able to stitch together a gene and express it in a biological system. I really wanted to be able to do all of that, because I never had a chance to do any of it in India," she says.
As she was exploring postdoc options after receiving her Ph.D., she discovered she was pregnant with her son. Due to pregnancy related complications Ajit had to hold her plans. After her son was born, she searched for an industry job to help her gain experience until she was ready to apply to postdoctoral fellowships again.
When Ajit learned there was a temporary position available in the Neuroscience Research & Development section of the pharmaceutical company Wyeth in Princeton NJ, she was drawn to the opportunity—envisioning a new and exciting area of research with more regular hours that would allow her to care for her son. At Wyeth, she worked on cell-signaling research. With her interest in signal transduction and her background in molecular biology, it was a perfect fit. Ajit also signed up for a neuroscience continuing-education program at Columbia University, to which she traveled by train every Saturday morning. Her dedication and drive paid off—after six months, Wyeth offered her a permanent position.
There has to be equal emphasis on translational and basic research. From my perspective as someone who was in industry and who is now doing basic science, I see the importance of both.
After a couple of years at Wyeth, Ajit was asked to transition her work to the molecular biology of pain. That meant starting from scratch. When she reflects on her time in industry, her biggest takeaway was to keep an open mind and not to worry when asked to pick up a new topic or area of research. In industry, Ajit was able to cultivate her skills. "It was a learning experience—exploring something from literature as a target for pain, developing an assay and validating if this could potentially be a feasible drug target."
At the time, Wyeth allowed its scientists to pursue basic science in addition to drug discovery. Ajit decided to investigate microRNA populations in the context of pain. She identified a group within the company that was interested in this novel pursuit and began a collaboration.
Over time, she became fascinated by epigenetics and wanted to write a grant for external funding. When Wyeth declined to support her grant submission, the experience confirmed that it was time for a change. So, when Ajit attended the Keystone conference where she met Dr. Barrett, a former president of neuroscience at Wyeth, who, as fate would have it, had made the transition back from industry to academia. She took a chance and spoke with him about her fascination with epigenetics, and he encouraged her to pursue a faculty position. She applied, presented her microRNA work and grant idea on the epigenetic regulation of pain, and was hired by Drexel University.
As a junior faculty member, she applied to and received a 2010 Rita Allen Foundation Award in Pain. Working at Drexel gave her access to patient samples, which opened the door to a world of new experiments. She collaborated with Robert Schwartzman, a clinician who studied complex regional pain syndrome. Ajit recalls: "I really wanted to study circulating miRNAs in the blood to see whether we could come up with a biomarker for this syndrome—this is what I wrote for the Award in Pain." Ajit reflects fondly on being a recipient of the award, "It made a difference for me because it gave me a feeling that somebody else believes in the science I want to do."
Currently, the Ajit Lab is continuing the original studies on circulating microRNAs as biomarkers for pain. One of the targets the team has identified is Xist, a long noncoding RNA that is involved in X-chromosome inactivation or controlling gene expression on the X chromosome. "One observation we made was that during acute inflammation, in the first few hours, a small fraction of Xist migrates to the cytoplasm and creates a complex-like element with NF-κB—an inflammatory and immune-response protein. We think this is delaying the migration of NF-κB to the nucleus so that it reduces the inflammatory response, or inflammation. This is important for comparing female cells to male cells and, could probably be one of the central mechanisms by which women are protected against acute inflammatory diseases. We have identified interacting partners in this complex and are now trying to see how the presence of Xist impacts signaling events unique to female cells," says Ajit. Additional studies from the Ajit lab have also focused on microRNA regulation of Xist and the differences between males and females.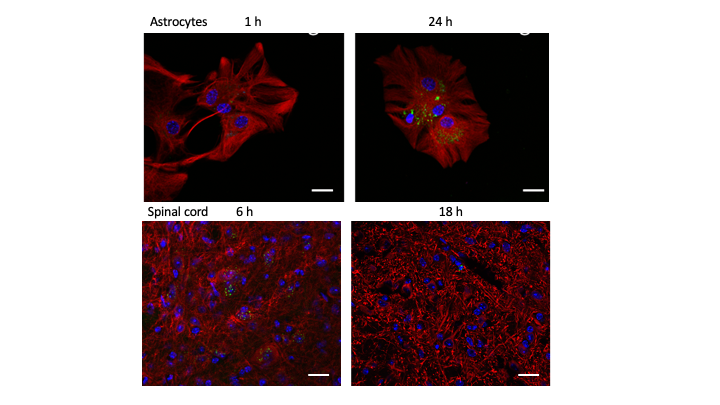 Another part of the lab's research focuses on small extracellular vesicles (sEVs), or exosomes, and their role in inflammatory pain. This was a natural extension of investigating how miRNAs are transported in circulation. After characterizing sEV cargo including miRNAs, the lab discovered that when sEVs released by macrophages are injected into animals, the animals are protected against pain. Ajit explains, "We did an experiment with our lab animals— we found mice recovered faster when sEVs were administered after inducing inflammation. We then did another experiment where I told my students, 'Let us inject sEVs in mice, wait for two weeks and then repeat the pain study.' In the end, these animals also had pain, but they recovered so much faster than the controls. Essentially, what this shows is that exosomes could potentially be protective like a vaccine, or preventative, for pain." We are currently studying if sEVs can induce an epigenetic memory that may confer this protection.
Ajit is now an associate professor at Drexel University College of Medicine. Here she shares advice for early-career scientists, thoughts on the changing pain-research landscape, and her interests outside the lab.
What reflections would you share with early-career scientists?
I was surprised by how much I enjoyed mentoring. I tell my son, "You are not my only child. I have four other children in the lab." I take my mentoring very seriously. One of the first questions I ask my students is, "Where do you want to be, and how can I help you get there?" I tell them if you say you want to go into industry, I will not look down on you, because I am someone who came from industry. You should do what works for you. You have to do what makes you happy.
I always make my students work on a couple of different projects, because if something doesn't work out, I don't want them to get frustrated. I trust them to do the right thing. If they make a mistake, I do not want them to be afraid to come and tell me. It happens—no one makes mistakes on purpose. I try to make sure that they are extremely comfortable with me no matter what they are dealing with. I am extremely proud of my trainees.
What are some challenges you have experienced as a pain researcher?
I hope [funding organizations] will increase funding a little bit more for pain, because so many patients have pain and pain funding is at the bottom of the list. That's why foundation support for new investigators is so, so critical.
There has to be equal emphasis on translational and basic research. From my perspective as someone who was in industry and who is now doing basic science, I see the importance of both. NIH's HEAL Initiative is supportive of these things.
What do you enjoy doing outside of the lab?
I am an introvert. So, like most introverts, I enjoy reading. It is hard to find time to read for fun when there is so much work-related reading. I really, really enjoyed this book for nature lovers—The Overstory by Richard Powers. If you have not read it, I recommend it. It is an amazingly thought provoking book with trees as protagonist. The breathtakingly beautiful writing, the science, the convergence of parallel stories, I found everything about this book wonderful.