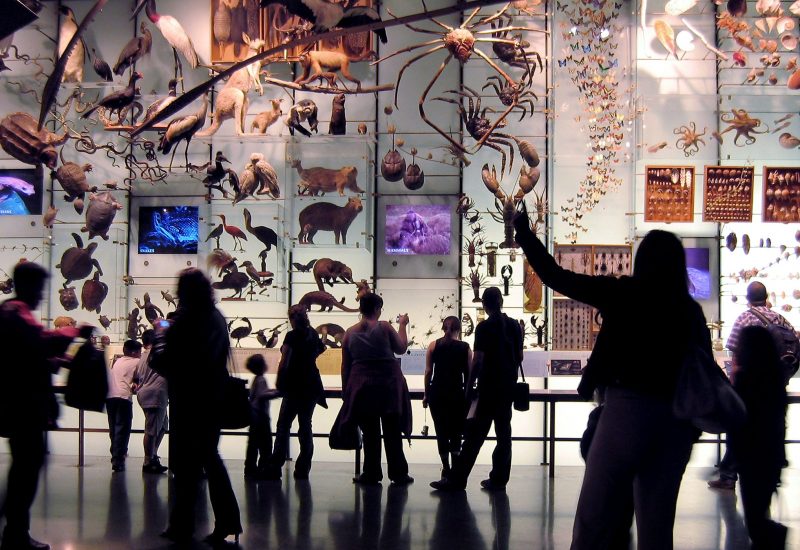 New Civic Science Fellowship to Connect Science and Society
People, communities, and our larger society are confronting complex challenges and opportunities, from public health to economic growth, climate change, and more. Science—as a process, as an ever-growing body of knowledge, and as a network of skilled people—can provide insights into potential solutions and push new frontiers for humanity. As science rapidly evolves, harnessing its full potential will require that people from all walks of life are included in its development and benefits.
To catalyze widespread engagement with science and its societal implications, a partnership of civic institutions, media organizations, scientific associations, researchers, and foundations is coming together to create a new program, the Civic Science Fellowship.
The Fellowship will embed emerging leaders from diverse backgrounds in organizations working at the many interfaces of science and society. Fellows will work on a variety of multidisciplinary projects that connect civic science research with evidence-based practice, and scientists with communities. Projects might include, for example, creating innovative media, designing approaches for community engagement, and investigating best practices for working with specific populations. Fellows will also create connections and shared resources to strengthen the development of a culture of civic science across many types of networks.
"Rapid advances in science—from gene editing to artificial intelligence—are opening new doors for benefits to society," said Elizabeth Good Christopherson, President and Chief Executive Officer of the Rita Allen Foundation. "Ensuring that these benefits are realized for everyone in our society is an urgent challenge, one that animates this effort to spark a new culture of inclusion in science and the important societal decisions connected with it."
A pilot cohort of Civic Science Fellows will begin their work in fall 2019.
"Scientists are active participants in civic science," said Eric Marshall, Vice President of Public Engagement and Prizes at the Kavli Foundation. "To be effective, they need the support of leaders and experts in public engagement and communication. It is critical to empower those that provide this support, from scientific societies to community groups."
The Civic Science Fellows program builds on research by the National Academies of Sciences, Engineering, and Medicine; the American Academy of Arts and Sciences; and many experts seeking better ways to meaningfully engage with disparate audiences—from policy makers to communities to educators.
"The future of discovery science requires the support of many—including philanthropists and other members of the public who back robust funding of research," said Valerie Conn, Executive Director of the Science Philanthropy Alliance. "The Civic Science Fellows program is a pioneering program to build capacity for a growing field. We want to strengthen the intersection of science and society by piloting and sharing best practices for communication and engagement."
The program also builds on the efforts of myriad organizations and individuals committed to strengthening the role of science in public life, with particular inspiration from the leadership of WGBH and Adnaan Wasey, a media producer who was selected as the first Rita Allen Science Communication Fellow at WGBH in 2018 and will be among the first Civic Science Fellows.
The Civic Science Fellows program is in formation. To follow its development and see when fellowship positions become available, please visit https://ritaallen.org/civic-science/
The following organizations are among the Fellowship's founding partners:
The Rita Allen Foundation invests in transformative ideas in their earliest stages to leverage their growth and promote breakthrough solutions to significant problems. It enables early-career biomedical scholars to do pioneering research, seeds innovative approaches to fostering informed civic engagement, and develops knowledge and networks to build the effectiveness of the philanthropic sector.
The Kavli Foundation is dedicated to advancing science for the benefit of humanity, promoting public understanding of scientific research, and supporting scientists and their work. The Kavli Foundation will support a Civic Science Fellow working with a group of scientific societies, including the American Society for Cell Biology, Research!America, the American Geophysical Union, and the American Association for the Advancement of Science.
The Science Philanthropy Alliance is a community of funders who work together to inspire new, emerging, and current philanthropists to dedicate a portion of their philanthropy to basic science. Alliance members act both as champions and advisors to other philanthropists to ensure more private funding is earmarked for the kinds of research initiatives that have led to the scientific, technological and medical breakthroughs that fuel our technology and information-driven economy of the 21st century.
WGBH Boston is America's preeminent public broadcaster and the largest producer of PBS content for TV and the Web, including Masterpiece, Antiques Roadshow, Frontline, Nova, American Experience, Arthur, and more than a dozen other primetime, lifestyle, and children's series. WGBH also is a major source of programs for public radio, a leader in educational multimedia, and a pioneer in technologies and services that make media accessible to deaf, hard of hearing, blind, and visually impaired audiences. WGBH has been recognized with hundreds of honors: Emmys, Peabodys, duPont-Columbia Awards, and Oscars.