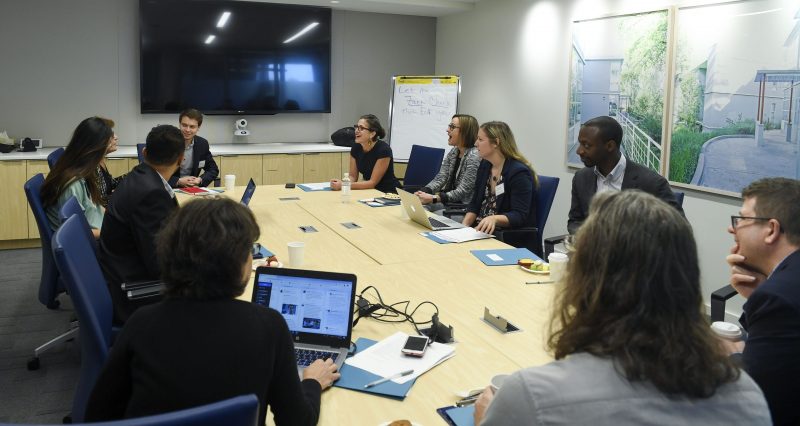 Projects to Reduce the Spread of Misinformation Awarded $100,000 by the Misinformation Solutions Forum
Winning projects include training that teaches college students awareness of their own internal biases
RESEARCH TRIANGLE PARK, NC—November 15, 2018—Following a nationwide call for ideas and a day-long Misinformation Solutions Forum at the Aspen Institute in Washington, D.C., three multidisciplinary teams have been named as winners of the first Misinformation Solution Prizes. They will receive a total of $100,000 in grants to fuel development of novel ideas to reduce the spread of misinformation and minimize its influence. The winning ideas seek to foster motivation and tools for confronting misinformation, focusing on the needs of rural and urban youth as well as users of social media platforms like Facebook.
The winners of the Misinformation Solution Prizes are:
Mind Over Chatter ($50,000): Indiana University Kokomo
Mind Over Chatter is an educational intervention for first-year college students that focuses on mindfulness training, aiming to reduce the effects of biases and empower students to be responsible researchers. The curriculum engages older students in instruction and also seeks to increase student retention among a largely rural, underserved population. It contains three components: initiation in skills and tools, protection against biases by learning about factors that make humans prone to misinformation, and strategies students can use to protect themselves from influences of misinformation.
Go Above the Noise ($25,000): KQED (San Francisco)
Building on the success of a KQED program to help teens develop media literacy skills, Go Above the Noise uses short-form activities where students read interactive blog articles and respond to questions, using evidence to back their claims. Students can interact with others across the country to develop media literacy and civic engagement skills. KQED also integrates youth into the editorial process for the program.
Let Me Fact Check that for You ($25,000): Washington State University
Let Me Fact Check that for You helps people verify and contextualize information using simple, teachable verification techniques. The service will allow people to paste in a URL that requires fact checking, answer a question or two, and produce a custom linkable infographic that will show the step-by-step process of checking a specific claim and website. The resulting link can then be shared—for example, as part of a dialogue on social media.
Each of the winning teams combines different types of expertise—including in education, media production, technology, behavioral science, and social science related to information sharing. Their ideas were further developed at the Misinformation Solutions Forum in October, where cross-sector participants, including data scientists, journalists, funders, and 12 graduate student fellows, came together to workshop the six finalist projects.
"Students need more than what they have been getting when it comes to information literacy," says Mark Canada, Executive Vice Chancellor for Academic Affairs and Professor of English at Indiana University Kokomo, who is the project lead of Mind Over Chatter. "As the Internet grows and grows, it is easier and faster to disseminate false information. Outside of the financial support, the Forum process is going to make this a better product and project."
Much discussion of misinformation highlights how much inaccurate information is available online or in news media. The Misinformation Solution Forum approached the problem from a new angle by building partnerships focused on addressing the human behaviors and motivations behind information sharing. Following an open call for ideas in March 2018, the six finalists were selected from more than 75 proposals by a panel of expert judges. The three winners were chosen by a combination of judges' rankings and feedback from participants in the Misinformation Solutions Forum.
The Forum and prizes were presented by the Rita Allen Foundation and RTI International in partnership with the Aspen Institute, with additional support provided by the Burroughs Wellcome Fund, Craig Newmark Philanthropies and Democracy Fund.
"Through the open call that launched the Misinformation Solutions Forum, we sought to reach and include diverse perspectives to address a complex problem that affects all of us as individuals and our communities," says Elizabeth Good Christopherson, President and CEO of the Rita Allen Foundation. "With leadership from Brian Southwell and Vanessa Boudewyns of RTI International and Ruth Katz, Vice President at the Aspen Institute, along with expertise from social and behavioral science, media, philanthropy and other fields, the Forum was a fundamental step towards building collaborative problem-solving communities of learning and practice."
For more information, please contact:
April Umminger, Senior Newsroom Manager, RTI International
aumminger@rti.org
919.541.7340
Kate Belyi, Communications and Knowledge, Rita Allen Foundation
kb@ritaallen.org
609.683.8010
---
About RTI International
RTI International is an independent, nonprofit research institute dedicated to improving the human condition. Clients rely on us to answer questions that demand an objective and multidisciplinary approach—one that integrates expertise across the social and laboratory sciences, engineering, and international development. We believe in the promise of science, and we are inspired every day to deliver on that promise for the good of people, communities, and businesses around the world.  For more information, visit www.rti.org.
About the Rita Allen Foundation
The Rita Allen Foundation invests in transformative ideas in their earliest stages to leverage their growth and promote breakthrough solutions to significant problems. It enables early-career biomedical scholars to do pioneering research, seeds innovative approaches to fostering informed civic engagement, and develops knowledge and networks to build the effectiveness of the philanthropic sector. For more, visit ritaallen.org.
About the Health, Medicine and Society Program of the Aspen Institute
The Health, Medicine and Society(HMS) Programis the domestic health initiative of the Aspen Institute, one of the world's premier gathering places for leaders to come together to explore the ideals and ideas that define a good society. HMS emphasizes reasoned discussion and analytical rigor, but honors disruptive thinking; seeks intersections across disciplines; and goes beyond the "usual suspects" in recruiting participants for our events so that diverse voices can be heard. Our goal is to nurture new connections, inspire thoughtful debate, and identify and advance action-oriented strategies to improve the nation's health.