Mapping the Future of Science Engagement
A new report identifies priorities for strengthening the relationship between science and society
The American Academy of Arts and Sciences has released the final report in a multiyear effort to identify priority areas where action over the long term could positively shape people's experiences with science.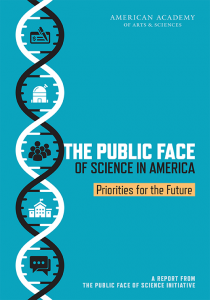 The Public Face of Science in America: Priorities for the Future outlines three key areas for attention: building capacity for outreach in the scientific community, shaping narrative by fighting misinformation and investing in science journalism, and developing systemic support for science engagement across diverse communities. The report notes that the COVID-19 pandemic has made these priorities more acute—yet also more challenging.
"The current crisis has underscored the importance of a society in which everyone has equal opportunity to learn from, engage with, and participate in science," writes David W. Oxtoby, President of the American Academy of Arts and Sciences. However, "While the goals and suggested actions identified throughout this report are more important than ever, they are even further from being realized due to diminished resources and field-wide layoffs. For those with the power and capacity to support the institutions and organizations that provide access to science, now is the time to act."
The report breaks down action items for scientific engagement institutions, funders, scientific societies, higher education institutions, and science communicators and highlights examples of promising initiatives now underway. It also explores the importance of the social and behavioral sciences in understanding public attitudes and experiences around science.
The report follows two others produced by the initiative, Perceptions of Science in America and Encountering Science in America, that synthesized large bodies of research, case studies, and expert input. The final report builds on the findings of the previous reports, including that there is no single "anti-science" population—rather, attitudes toward science vary on different issues depending on specifics of context and identity that require new research and collaboration to understand.
Conclusions from the final report include:
Principles of diversity, equity, and inclusion should be embedded in all aspects of science communication and engagement, and there is an opportunity to learn from and support established networks in this space, including the Society for Advancement of Chicanos/Hispanics and Native Americans in Science (SACNAS), Ciencia Puerto Rico, and #InclusiveSciComm.
The narrative around science can be shaped by limiting its mischaracterizations and increasing support for science journalism. For example, as explored by the Annenberg Science Media Monitor, coverage of scientific retractions in the media can lead audiences to conclude that science is either corrupt or self-correcting, depending on how they are framed.
Funders have an important role in supporting new connections between researchers and practitioners, as in the National Academy of Sciences' Building Capacity for Science Communication Partnership Awards to catalyze new collaborative partnerships.
The Public Face of Science Initiative is supported by the Rita Allen Foundation, the Gordon and Betty Moore Foundation, the Alfred P. Sloan Foundation, and the Hellman Fellows Fund.